Frequently Asked Questions
If you are here, then we know you care about hungry children right here in Milford!  Thank you.  
We hear great questions like these:
When can I volunteer to pack bags?  Click on Sign Up Genius.  Also, find a Packing Schedule for Winter 2016-2017 attached below.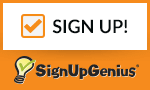 What happens to these kids over the summer?  For now, we are collaborating with St. Mary's Catholic Church in Milford.  We have arranged for the families from the Pilot Program a chance to visit the Food Pantries at First Church or St. Mary's each month to hopefully add to their own food supplies for their household.  We have found that Milford has few offerings to support hungry children.  Other towns have distribution sites to feed kids and families.  We, as a community, should make this happen!  (Check out this program in New Haven, CT for Summer 2016).
What does my sponsorship cover? $280 can fill 40 weekend bags (at $7/bag).  A sponsorship is for a particular kid, which builds a sense of food security over the school year.  We gladly receive donations for any amount!  When the donations add up to a full sponsorship, we are able to accept another student into the program.   
What's in the bag of food? We choose food similar to the CT Food Bank program that is nutritious, non-perishable, pre-packaged, pre-cooked, can be eaten hot or cold, and that children WANT to eat.  These are foods that kids can prepare with little assistance.
Chef Boy R D 
Mac & Cheese
Cereal
Cereal Bars & Granola bars
Fruit Juice
Fruit Cups & Raisins
Snacks
Peanut Butter
Jelly
Oatmeal
Milk


How can I personally help?  You can sponsor a local child.  You can help us pack bags.  You can share this mission and program with your civic organization, business or church to consider sponsoring and joining our mission.
What if my business is able to give?  Great.  We are a non-profit.  You can set up a matching opportunity, too.  We have received sponsorships from businesses in honor of employees as well. 
How could our Milford Community work together to alleviate local child hunger?  We frequently present Milford Food 2 Kids to organizations and churches, and are excited to share the mission with the community.  For Milford Food 2 Kids to take care of all the hungry children in need, and for it to have sustaining powering, we will need the efforts of the whole community. 
How can I share this message with my friends and organization?  Share us on Facebook: Milford Food 2 Kids, contact us: outreach@firstchurchofmilford.org, or call Rev. Ashley: 203-877-4277 ext. 309.
Will a Food 2 Kids representative come to my organization and present the program?   Absolutely.  Contact us.  outreach@firstchurchofmilford.org Or call: 203-877-4277.
What impact does this program have on the students?  We are trying to feed kids.  When a child is fed over the weekend, he can come to school on Monday, ready to learn.  When a child is fed over the weekend, she will be able to focus in class during the week and not worry about the weekend.
How can my PTA get involved? PTAs can discuss the program at their meetings, even talk about it over the summer.  Please consider including Milford Food 2 Kdis in your budget so that you can be a part of the solution to hunger among the kids at your own school.  Matthewson PTA is already planning their budget for 2016-2017 with Milford Food 2 Kids!  Check out the attachment as a project for your school!
Contact Rev. Ashley Grant at revash@firstchurchofmilford.org or Michele Steinlauf at outreach@firstchurchofmilford.org for immediate answers.  We'll add to this page in the coming weeks!
Send us your questions too.
Attachments